Find Stress Relief Through Coloring
Millions of people have discovered the benefits of adult coloring books for stress relief, relaxing the body and calming the mind. Although it's not quite art therapy adult coloring books can help you practice mindfulness meditation as we recently wrote about. By immersing yourself in a creative activity, you can unplug, unwind and let go of the day's stress while being fully engaged and present in the current moment.
The best part about coloring for stress relief is only a few basic tools are required: coloring pages, colored pencils, markers, watercolors, pencils, gel pencils, crayons, or even a blend of these. The color you choose can have a profound effect on your well being too. Greens, blues and violets have the power to encourage relaxation and feelings of calm after a stressful day. While energizing oranges and yellow promote feelings of happiness and joy.
The simple act of choosing a beautiful coloring book, noticing how the paper feels between your fingers, can be the start of a creative, calm and relaxing flow. For your convenience, here's a round up of 5 adult coloring books by talented indie designers and illustrators.
1. Splendid Cities


If you can't break away for a vacation let the vacation come to you. You'll feed your desire for wanderlust by exploring the beautiful cities of the world in Splendid Cities by Rosie Goodwin. ($9)
2. Just Add Color: Botanicals: 30 Original Illustrations to Color, Customize and Hang


Relax, have fun and frame, share or hang your final work of art, thanks to the page perforations in Just Add Color: Botanicals: 30 Original Illustrations To Color, Customize, and Hang by renowned illustrator and fine artist Lisa Congdon ($11).
3. Animal Kingdom, Color me, Draw Me

If you love animals, get lost in Animal Kingdom by Millie Marotta. You'll discover birds, fish, dragonflies, elephants and other beautiful creatures along the way. ($11)
4. The Mindfulness Coloring Book: Anti-Stress Art Therapy for Busy People


If you're too busy for hours of coloring, simply unplug for a moment of peace and calm with this pocket-sized coloring book that fits in your bag. Even if you only have five minutes, you can channel your stress into a simple, yet creative activity with The Mindfulness Coloring Book by Emma Farrarons. This would make a great stocking stuffer! ($10)
5. Color Me Zen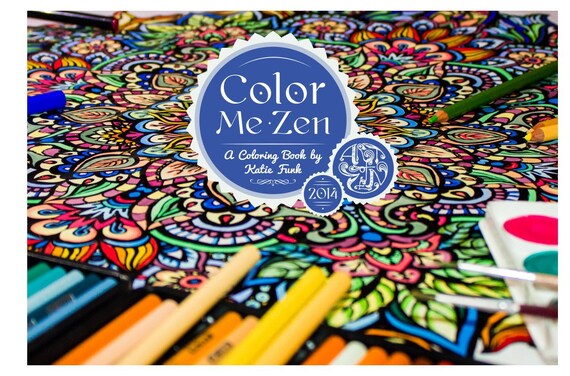 This is your coloring book of choice if your love for art is great. Release your inner Picasso with 20 large, complex designs related to the mandala meditative art in Color Me Zen by Katie Funk. ($20)
Discover now for yourself why so many are using coloring for stress relief with our Coloring Book & Flowering Tea Gift Box featuring tear-out Secret Garden coloring post cards, mini color pencils and flowering green tea.  Warning, you may get hooked on coloring and not want to do anything else for hours!
Note: This post contains affiliate links, which means that if you click on one of the product links, we may receive a referral fee.
Leave a comment
Comments will be approved before showing up.